Sports Premium 2015/16
School Sports Premium Funding – 2015/16
The table below provides information about Sports Premium funding received and a breakdown of how it was spent in the academic year 2015/16.
The effect of this funding on PE and sport participation and attainment: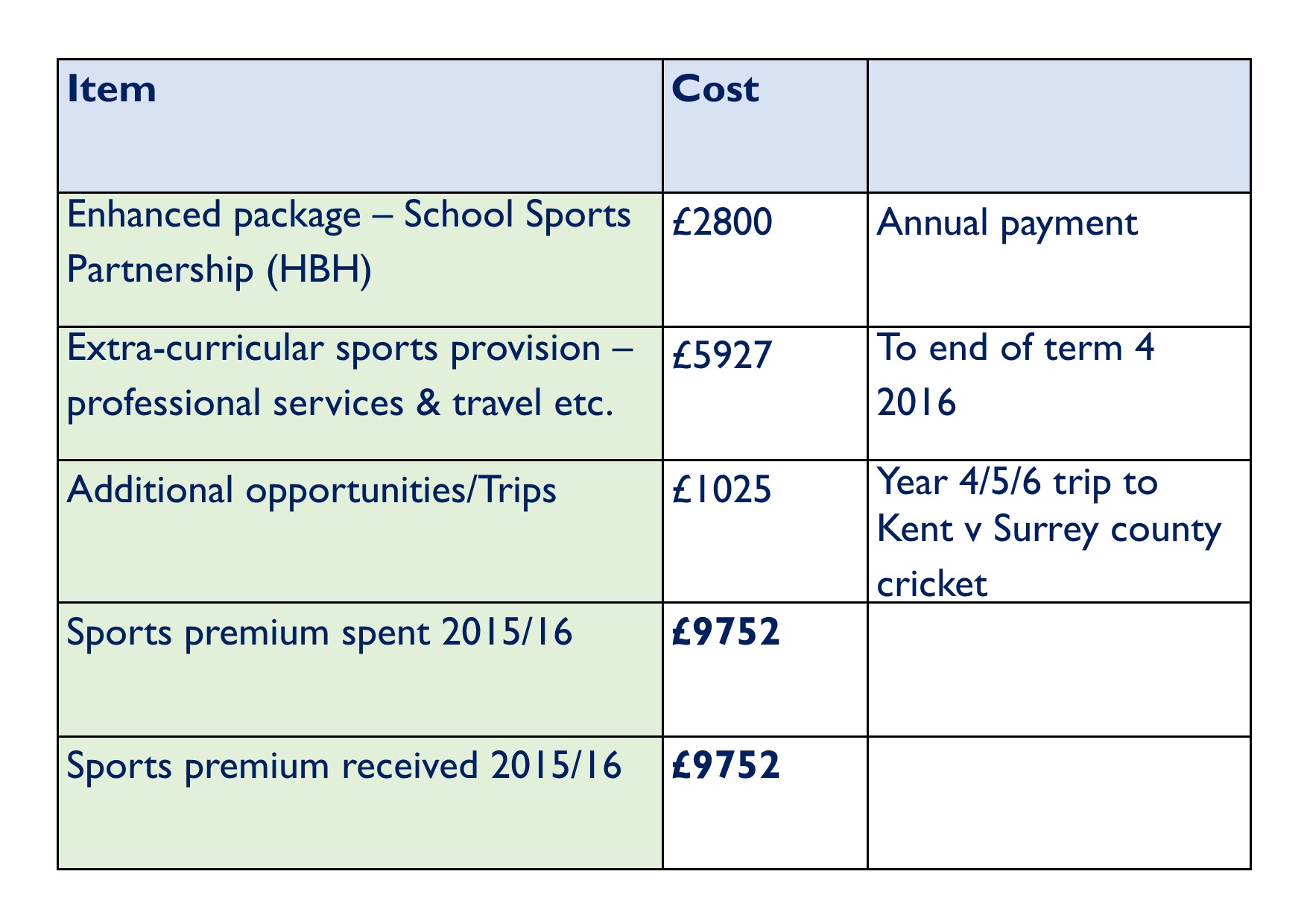 Our Sainsbury's Sports mark Silver award is evidence of our intention and success in providing a high level of sporting opportunities for our pupils both inside and outside the PE curriculum. This includes both opportunities of participation and competition across the year groups.
At Davington we offer a huge variety of after-school sports clubs and opportunities – Many of these are provided by our teaching staff, however many are now provided through experienced and qualified sports coaches. We are able to provide these sporting opportunities across all year groups and key stages throughout the year.
Participation in these is high, with almost all clubs attracting 20 children per session. Our data suggests that around 50% of our pupils take advantage of these clubs over the course of the year.
Our school's membership of the local School Sports Partnership (SSP – enhanced package) gives us a huge range of benefits. As a school we participate in around 8 interschool competitive opportunities at KS1 and KS2 across the year; we are able to make use of their support for our PE leader and other INSET opportunities; additional coaching is also sourced through them; support when making our Sports mark application; support with training year 6 sports leaders; support in setting up specific clubs such as 'Fit for Life' which our well-being team oversee.
Funding to attend relevant local sporting experiences has also been possible such as the Kent v Surrey County Championship cricket match held in Canterbury during term 6.
How we will make sure these improvements are sustainable:
At Davington we have a long heritage of providing excellent sporting provision, opportunities and competition. Through continued funding we will continue to offer experiences at the level outlined above and look at ways of enhancing what we do. Ensuring the resourcing is in place and that key individuals and organisations are on board has been crucial in ensuring the sustainability of much of this work and will continue to be so.